Amy Schumer has proven herself to be one of the entertainment industry's leading forces as a standup comedian, actress, writer, producer and director.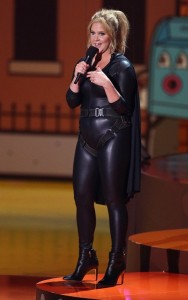 Schumer is the creator, star, writer and executive producer of the award winning "Inside Amy Schumer," the popular Comedy Central television series, which premiered in April 2013 to the network's highest season premiere ratings of that year. "Inside Amy Schumer" won the 2015 Writers Guild Award for Best Comedy/Variety Sketch series.
In 2015, the show was honored with the first-ever Primetime Emmy Award for Outstanding Sketch Variety Series.
Schumer was also nominated for Outstanding Directing for a Variety Series and Outstanding Writing for a Variety Series.
Schumer received honors for Individual Achievement in Comedy and Outstanding Achievement in Comedy from the Television Critics Association in 2015.
Additionally, she was awarded the 2015 Critics' Choice Television Award for Best Actress in a Comedy Series.
Among the show's many accolades, it also received the prestigious Peabody Award in 2014.
Schumer's first book, The Girl with The Lower Back Tattoo, continues to live on The New York Times bestseller list. Additionally, the book earned her a 2017 Grammy Award nomination for Best Spoken Word Album and was released in paperback in August.
Schumer was most recently seen on the big screen in Snatched, the mother-daughter comedy opposite Goldie Hawn. She can currently be seen in Jason Hall's drama Thank You For Your Service and stars in the new comedy, I Feel Pretty, opposite Michelle Williams.
Schumer's Universal Pictures hit Trainwreck dominated the 2015 summer comedy worldwide box office.
Schumer wrote the film which co-starred Bill Hader, Tilda Swinton, Brie Larson, LeBron James and Vanessa Bayer.
Judd Apatow directed the film which was nominated for two Golden Globes including Best Actress, Comedy or Musical, as well as Best Picture, Comedy or Musical.
Additionally, she won the Critics' Choice Award for Best Actress in a Comedy and was nominated for a Writers' Guild Award in the category of Original Screenplay.
That same year, the British Academy of Film and Television (BAFTA) honored Schumer with The Charlie Chaplin Britannia Award for Excellence in Comedy.
Schumer's latest one hour Comedy special titled "The Leather Special" is currently streaming on Netflix.
Her one-hour HBO comedy special, "Amy Schumer: Live at the Apollo" directed by Chris Rock, premiered on October 17, 2015, and was HBO's most watched Saturday night comedy special debut since December 2009.
The special earned her Primetime Emmy Award and Writers Guild Award nominations for Best Comedy/Variety Special as well as a 2017 Grammy Award nomination for Best Comedy Album.
She continues to tour to sold out shows around the world.
Schumer's hit one-hour stand-up special for Comedy Central, "Mostly Sex Stuff," stands as the network's highest rated original stand-up special since 2011.
She was also one of the featured comedians on the "Comedy Central Roast" of Roseanne, which followed her memorable and quotable performance on the 2011 "Comedy Central Roast" of Charlie Sheen.
She made her network debut in 2007 when she starred on NBC's "Last Comic Standing" and soon after co-starred on "30 Rock" and received her own Comedy Central Presents special.
Her other television credits include FX's "Louie," HBO's "Girls" and "Curb Your Enthusiasm," as well as Adult Swim's "Delocated." Her album Cutting placed in the top five of the Billboard charts and has been included on multiple Best Comedy Albums of the Year awards' lists. This year Amy made her Broadway debut in Steve Martin's Meteor Shower.
Schumer is a founding member of The Collective, a New York based Theatre Company, and a graduate of The William Esper studio where she studied for 3 years.