COMIC-MAGICIAN/MENTALIST/HYPNOTIST
From the Riviera Hotel & Casino in Las Vegas,
to Caroline's Comedy Club on Broadway,
to TV's Jerry Springer Show,
Denny More has been entertaining, mystifying,
amazing and causing his audiences to convulse with
laughter for four decades.
Whether you are witnessing his amazing and hilarious
COMEDY - MAGIC & MENTALISM SHOW,
or his insanely unpredictable HYPNOSTERIA SHOW,
Denny's performance is one you will NEVER forget!!!
COMEDY-MAGIC & MENTALISM
This show is absolutely perfect for
CORPORATE EVENTS, CASINOS
COMEDY CLUBS, CRUISES and PRIVATE PARTIES.
It's flexible enough to fit in at a small gathering
(private or corporate) of 20 people or so,
or can be presented in the largest casino showroom,
and everything in between.
Each show will be custom-designed to YOUR venue.
It can be presented squeaky-clean or, if you prefer,
it can lean in a more risque direction,
or somewhere in between.
It can run 15 minutes or 90 minutes
or anything in between. It's all up to you!
The bottom line is:
YOUR AUDIENCE(S) WILL LOVE THIS SHOW
AND TALK ABOUT IT FOR WEEKS LATER!!
"The Bad Boy of Hypnosis"
presents
HYPNOSTERIA
ALL STAGE HYPNOTISTS ARE NOT CREATED EQUAL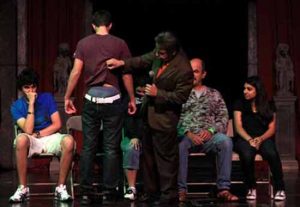 Denny  has been performing stage hypnosis for almost four decades. He learned, years ago, that although hypnosis is obviously an important part of the show, it is more important to be a performer. Over the years, his versatility as a stage hypnosis entertainer has made him welcomed in a countless variety of venues and events. From family-type of venues like high schools and theme parks to the wild side of comedy clubs and casinos, Denny has done them all to perfection.
Whether you're looking for a squeaky-clean, politically-correct show for you next corporate event, high school or theme park, or a risque, wild show for your casino or comedy club, DENNY   is the answer.
Note: Two-hour concerts featuring both COMEDY-MAGIC & HYPNOSTERIA are also available. These are perfect for fund-raisers for your high school, group or organization.