From Closeup to Standup Shows for Adults, Family or Children. Lou is the All Around Entertainer!! 
45 min to 1 hr. show for any occasion ....
RESTAURANT MAGIC - Share laughs and makes memories with your guests.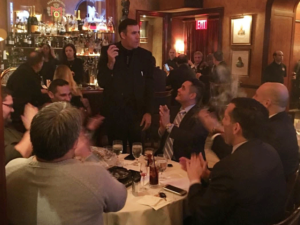 KING KON - Lou - the King of Cons! From Chain Swindle to Poker deals to a new Dice Stacking Demo and more, Lou's card and casino tricks draw the crowds in and keep 'em right there! His astounding Three-Card Monte is guaranteed to bemuse and bewilder - after three full hours at a recent college event, the audience still could not locate the Ace!
Plus enjoy plenty of FUN with the WOW factor for your guests with my Close-Up Magic. Cards, coins, rope; handkerchiefs and borrowed rings and money appear, vanish and sometimes even in THEIR hands. Award winning and versatile, Lou's creative magic plays BIG! (Hey, he's 6'6". Everyone can enjoy the show!) They'll see him stroll with effects from his suit (many color choice options).  Multiple hours is his specialty. While others say no, Lou is just getting warmed up. He makes the best choices for your themed event.
 
STILT WALKING
Lou's Stilt Walking Entertainment is something to see, his height on stilts is 8.5-9 feet tall. That means he can perform indoors as well as outside. No excuses. Carnival Barker and Top Hat and Tails are two of his most popular costumes and he has plenty more including Wizard, Court Jester, Uncle Sam, and Toy Soldier. Lou's own height of 6'6" allows him to be flexible to just about ANY space. Juggling and Flagging are included with the booking.