The Fireflies headed up the charts in September of 1959 with the song  "You Were Mine",  eventually parking at number 21 on Billboard, and lasting a total of 19 weeks.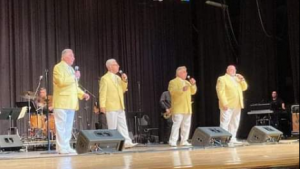 The group formed around 1958 with all group members from Brooklyn except John Viscelli, who was from Clifton New Jersey. They recorded an instrumental called The Crawl for Roulette records, as a self contained group with a slightly different group name spelling, The Fireflys. It did not make noise, and the guys reactivated in 1959. The original group consisted of Lee Reynolds, guitar and vocals, drummer Paul Giacolone, Ritchie Adams tenor, Carl Girsoli, guitar and vocals, . Carl was the first to leave and was replaced by John Viscelli, sax and vocals. They started out by recording "The Crawl" for Roulette, before becoming a self contained singing group. Gerry Granahan was responsible for getting the Fireflies to Ribbon records and I suppose in some ways, it was his "Group" that he promoted and organized. He also originally had his own voice on You Were Mine, before deciding to have Ritchie Adams take the lead. On the strength of You Were Mine, the Fireflies toured and played many shows. They appeared on Bandstand and performed at the Apollo. Their follow-up was also a Billboard charter called "I Can't Say Goodbye." They had a third record for Ribbon, one for Canadian American, and several for Taurus with a reformed group that included original member Lee Reynolds. Ritchie Adams 45's are also featured below, up to 1962, and one disc from 1966. Ritchie Adams went on to writing songs - a lot of them. Tossin And Turning, After The Loving, are just two of more than 350 songs he is credited with. He also wrote songs for the Banana Splits and the Archies. The Fireflies recorded some great records, and their legacy continues to live on, not only to those that heard the Fireflies records blasting out of their radios in 1959, but to those that have rediscovered the group through oldies radio shows and recent appearances of the current Fireflies group.
Todays Fireflies consist of  Marco Gueli , Vic Puma, Tony Errigo, Nick Catello and to this day are still touring around the country keeping the Fireflies music alive.