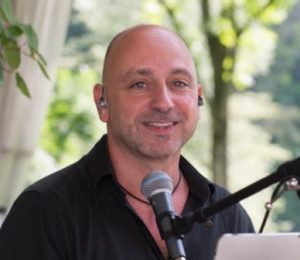 JEFF   (Keyboard, Vocals)
Jeff has been playing keyboard and singing ever since he can remember.  His love of performing officially began in high school when he appeared in numerous stage productions and musicals. Then, inspired by such artists as Elton John, Jackson Browne and Billy Joel, he began performing as a solo musician at coffee houses and clubs while attending University of Dayton. Jeff plays completely by ear and enjoys the challenge of replicating classic songs the way people know them, and delivering what he likes to call "musical comfort food".  He's been performing with Acoustic Road since 2007 and  looks forward to every opportunity he has to share his passion for music with others.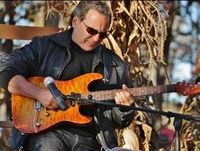 MATT   (Guitar, Vocals)
Matt has been studying, playing and sharing his knowledge of the guitar for over thirty years. He has performed with a variety of original and cover bands in Hartford, CT, Richmond, VA and San Diego, CA.  He is now involved with a number of local musical projects along with Acoustic Road.  Matt is also a dedicated guitar instructor with a unique talent for making learning fun, creative and bringing out his student's unique talents. Using innovative techniques as well as traditional instruction, students are encouraged to develop their self expression and unique style. His students are excited to be able to play music that they enjoy within a short time frame.
Audio Samples
Their song list of acoustic rock, classic rock, pop, oldies and country music favorites
is always expanding!
 If you have a suggestion or request for a specific song or artist.
A Little Help From My Friends - Beatles
All I Need is a Miracle - Mike & The Mechanics
All of Me - John Legend
All You Need is Love - Beatles
America - Simon & Garfunkel
Amie - Pure Prairie League
Angel Eyes - Love & Theft
Babe I'm Gonna Leave You - Led Zeppelin
Baby, I Love Your Way - Peter Frampton
Badlands - Bruce Springsteen & the E Street Band
Bad Moon Rising - Creedence Clearwater Revival
Better Days - Goo Goo Dolls
Blossom - James Taylor
Breakfast In America - Supertramp
Brown Eyed Girl - Van Morrison
Carolina On My Mind - James Taylor
Chasing Cars - Snow Patrol
City of New Orleans - Arlo Guthrie
Clocks - Coldplay
Come Monday - Jimmy Buffett
Comfortably Numb - Pink Floyd
Cracklin' Rosie - Neil Diamond
Dancing With Myself - Billy Idol
Daniel - Elton John
Daylight - Maroon 5
Dead Flowers - Rolling Stones
Desperado – Eagles
Dock of the Bay - Otis Redding
Doctor My Eyes - Jackson Browne
Dust in the Wind - Kansas
Eleanor Rigby - Beatles
Every Morning - Sugar Ray
Everything - Michael Buble
Fire and Rain - James Taylor
Follow You Follow Me - Genesis
Friend of the Devil - Grateful Dead
Garden Party - Rick Nelson
Get Together - Youngbloods
Goodbye Norma Jean - Elton John
Going To California - Led Zeppelin
Handle With Care - Traveling Wilburys
Have I Told You Lately - Van Morrison
Have You Ever Seen The Rain? - CCR
Heard It In a Love Song - Marshall Tucker Band
Helplessly Hoping - CSN
Here Comes The Sun - Beatles
Hey Jude - Beatles
Home - Phil Phillips
Homeward Bound - Simon & Garfunkel
Honky Tonk Woman - Rolling Stones
Hotel California - Eagles
I Can't Tell You Why - Eagles
I Got a Name - Jim Croce
I Saw Her Standing There - Beatles
If I Needed Someone - Beatles
I'll Follow The Sun - Beatles
I'm a Believer – The Monkees
I'm On Fire - Bruce Springsteen & the E Street Band
I'm Yours - Jason Mraz
In My Life - Beatles
Into The Mystic - Van Morrison
It's Five O'Clock Somewhere - Jimmy Buffett
Jenny (867-5309) - Tommy Tutone
Just to See You Smile - Tim McGraw
Keep on Rockin' Me - Steve Miller Band
Kodachrome - Paul Simon
Land Down Under - Men at Work
Layla - Eric Clapton
Let It Be - Beatles
Levon - Elton John
Like a Rolling Stone - Bob Dylan
Live Like You Were Dying - Tim McGraw
Long May You Run - Neil Young
Losing My Religion - R.E.M.
Lovesong - The Cure
Love Will Keep Us Alive - Eagles
Margaritaville - Jimmy Buffett
Man-Eater - Hall & Oates
Me & Julio - Paul Simon
Melissa - Allman Brothers
Melt With You - Modern English
Midnight Rider - Allman Brothers
My Next Thirty Years - Tim McGraw
Needle and The Damage Done - Neil Young
Ob-La-Di,-Ob-La-Da - Beatles
Old Blue Chair - Kenny Chesney
Operator - Jim Croce
Our House - CSN
Oye Como Va - Santana
Peaceful, Easy Feeling - Eagles
Piano Man - Billy Joel
Pink Houses - John Mellenkamp
Ramblin' Man - Allman Brothers
Redemption Song - Bob Marley
Red, Red Wine - UB40
Ring of Fire - Johnny Cash
Rocketman - Elton John
Romeo's Tune - Steve Forbert
Ruby Tuesday - Rolling Stones
Running on Empty - Jackson Browne
Scarlet Begonias - Grateful Dead
Saw Her Standing There - The Beatles
Sister Golden Hair - America
Smooth - Santana/Rob Thomas
Somebody's Baby - Jackson Browne
Someone Like You - Van Morrison
Something - Beatles
Sounds of Silence - Simon & Garfunkel
Stray Cat Strut - Stray Cats
Superman - Five For Fighting
Sweet Caroline - Neil Diamond
Sweet Home Alabama - Lynyrd Skynyrd
Take Me Home - Phil Collins
Tenth Avenue Freezeout - Bruce Springsteen
Tequila Sunrise - Eagles
The Boxer - Simon & Garfunkel
The Joker - Steve Miller Band
The Weight - The Band
Thinking Out Loud - Ed Sheeran
Toes in The Water - Zac Brown Band
Two of Us - Beatles
Up on Cripple Creek - The Band
Ventura Highway - America
Volcano - Jimmy Buffett
Wagon Wheel - Darius Rucker
Watching The River Run - Loggins & Messina
We Can Work It Out - The Beatles
We Found Love - Ed Sheerin
When September Ends - Green Day
When You Say Nothing at All - Keith Whitley
Where the Street Have No Name - U2
While My Guitar Gently Weeps - Beatles
Who'll Stop the Rain? - Creedence Clearwater Revival
Who Says You Can't Go Home - Bon Jovi
Wicked Game - Chris Isaak
Wish You Were Here - Pink Floyd
With or Without You - U2
Wonderwall - Oasis
Won't Let Go - Rascal Flatts
Words of Love - Beatles
You Are So Beautiful - Joe Cocker
You Can Do Magic - America
You've Got a Friend - James Taylor
You Wreck Me - Tom Petty