Clown, physical comedian, juggler, circus performer, yo-yo guy, novelty act, variety entertainer, whatever you want to call him, Andrew will put on a great show for your crowd.  Whether as a stand alone show, or as an addition to your production, Andrew's years of experience, professionalism, and talent will put you at ease, knowing you've got the right guy for the job.
Andrew has performed in over 35 of the United States, in many countries in Europe and Asia, all over the globe on cruise ships, and even for one Pope.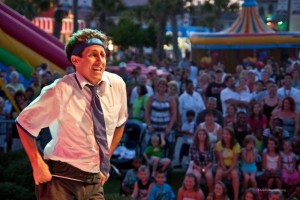 Here are some words of praise from past clients:
"Andrew was a big hit today with both the children and the adults. He is a repeat performer for us whom we never tire of."
"Fun. Engaging. Entertaining! Andrew was great!"
"Andrew is one of those highly skilled and versatile performers who always leaves his audience laughing!"
"Andrew is always professional, has great timing and is funny!"