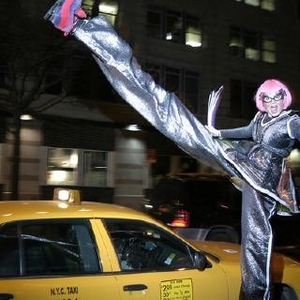 "Woohoo!!!!"
Brenn S, one of the few female stiltwalker multi-talents on the East Coast, is unmatched in her energy and ability to get a group of people young or old energized!

The skills Brenn is known for include stiltwalking (dancing & hula-hooping), juggling (balls, clubs, torches), rolla-bolla, rolling globe, chinese yo yo, plate spinning & slapstick comedy/characters, a 45 minute variety show, balloon sculpture, face and body painting, and glitter tatoos.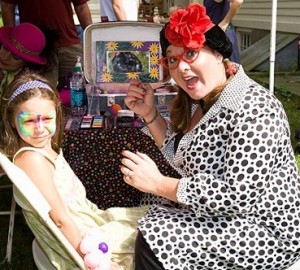 She has made over 3000 appearances at expositions, fairs, parades, benefits, cruise ships, Atlantic City casinos, pre-game entertainment for major sporting events and corporate functions. Brenn is a graduate from the prestigous Ringling Brothers and Barnum and Bailey Clown College after which she performed on tour with Ringling Bros. and Barnum & Bailey Circus in over 1000 shows both throughout the United States and Internationally. Other appearences include Walt Disney World, Six Flags Great Adventure, Rockefeller Center, Reebok, Goodwill Games at Madison Square Garden & Nassau Coliseum, Macys Thanksgiving Day Parade, Stage shows in China and Huis ten Bousch Japan. T.V appearances include: The Apprentice, Jersey Shore, Jersey Couture,…….this list can continue upon request.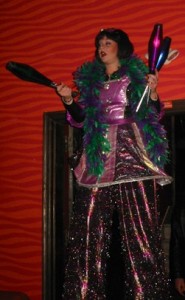 Annually, Brenn is a circus instructor at Children's cancer camps as well as other summer camps for children in need. Year-round she teaches circus skills at workshops, events and circus camps throughout the country for the young and old alike and has been an instructor for Cirkus Smirkus.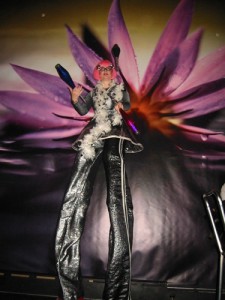 Brenn is responsible for developing a lot of the interactive & variety entertainment programming on Royal Carribean Cruise Lines known as the Krooz Komics. Most recently Brenn's talent and ambitious personality has brought her to yet another international arena. Over the past four years she has acted as the Artistic Director for the AEMI World Clown Festivals. Over 150 clowns and performers have been hired by Brenn to entertain the people of China.