Being a mystery entertainer, Daniel is both a magician & a mentalist who brings stimulating high-end entertainment & interaction to ANY social event or setting.
Based out of NYC, Daniel services individuals, corporations, and celebrities coast-to-coast & internationally WORLDWIDE.
WHEN YOU BOOK DANIEL YOU DON'T GET A ONE-SIZE-FITS-ALL SHOW. HE WORKS WITH YOU TO BUILD AN EXPERIENCE TAILOR-MADE FOR YOU AND YOUR GUESTS!
THE BIRTH OF A PASSION:
Daniel has been surrounded by magic all of his life! His parents hired a magician to perform for his family and friends at his 1st birthday party. He was already a student of sleight of hand by the age of 6. After learning his first trick with his father a year earlier – he was instantly HOOKED! He spent days in the library and took home every book he could find on the topic. He would learn a trick, practice it, and then demonstrate it over and over again for family and friends.
In middle school and high school Daniel was synonymous with magic. He would have crowds of students AND teachers around him in the hallways in between classes, and after school – always bringing a smile, and some wonder to anyone who was willing to share these moments.
A few years later Daniel went to college completing engineering degrees and certifications which ultimately led him to an amazing career as a lead project manager with a fantastic firm in the field.
Suffice it to say, the MAGIC NEVER LEFT and on his 24th birthday he decided to leave a prosperous career behind to pursue his one true passion becoming a full time entertainer – and that fire is the secret ingredient to what has fueled Daniel's rapid growth to then becoming a top performer in his industry to this day.
TODAY:
Ever since then Daniel has spent his lifetime perfecting his craft and his passion. He has performed for crowds as large as the thousands, to small intimate groups. He has performed for The New York Yankees, Apple, the Aria Nightclub in Las Vegas, someone like you, and much much more. Daniel's love for the art of magic is truly reflected in everything he does.
PRIVATE PARTIES
Private parties can include weddings, birthdays, holiday parties, house parties, Bar & Bat Mitzvahs, and more. Daniel will perform his captivating close up magic for you and your guests, or something a bit larger for the stage and parlor. No matter which direction you go in, his performances will always be energetic, creative, engaging and unique. Offer your guests a bit of something different and most definitely something they will never forget!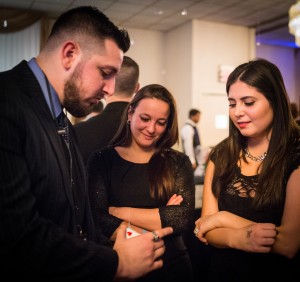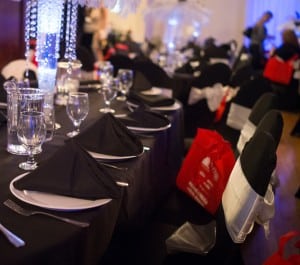 CORPORATE EVENTS & TRADE SHOWS
Fully customized to his client's needs, Daniel performs at sales meetings, corporate hospitality suites, team building exercises, trade shows and more. He has a knack for using his charm to draw in large crowds and create a positive buzz around your business. Upon request, Daniel will take the time to sit down with you to learn and understand your product and will create a personalized connection between your message and his magic, leaving an impression that the audience will never forget!
CLOSE-UP/STROLLING
His up close and personal magic is performed right in front of your eyes. No stages, no sets, no requirements. Anywhere, anytime. Seated, or standing. Ideal for intimate groups ranging from 5-25 people at a time. Daniel will get close to the crowd and move from group to group building a rapport while creating an exciting atmosphere. Perfect for cocktail hours, holiday parties, or any other event – Daniel's unique style of entertainment is what your gathering needs!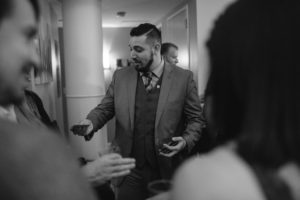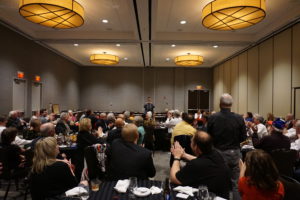 PARLOR & STAGE SHOWS
Looking for something on a grander scale? Daniel's one-man show blends the best of both magic and mentalism, creating a performance that will leave your audience in disbelief. Your guests will become captivated by Daniel's engaging mind reading act while also including your guests in the routine. Contact Daniel today to find out which performance style is best for you and your event. Let this be an event to remember!
LESSONS AND CONSULTING
Are you a magician, or aspiring to be one? Daniel has worked with people of all experience levels and ages. He has created magic, helped others to grow and improve their own, and inspired regular people to think like a magician when it comes to any creative process. Maybe your looking to impress that new business lead, or have fun with family and friends. Maybe you've been working on a routine or method and need some help breaking through a few road blocks. Contact Daniel to find out the best way he can help you grow as a performer and make day to day interactions more memorable.