Our comedy-based dueling piano show is always a fun, high-energy party-in-a-box! Our pianists sing and play everything from Jimmy Buffet, Garth Brooks, Billy Joel, To Petty, Jerry Lee Lewis, Disney, Lady Gaga, Elvis, Kate Perry, Metallica and just about anything else. But most important, the show is all about the audience. It's a clap-a-long, sing-a-long, crazy fiesta with roasts, drinking songs, toasts, and hi-octane comedy.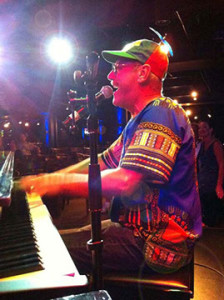 The show is request driven, so each show is a different experience. We bring request slips and pencils so your people tell us what they want to hear. Sing-along to Sweet Caroline, do the special Croc-clap with Crocodile Rock, shake your body to Sir Mixalot or sway to Piano Man.
 We can have your guest of honor up on stage for a roast, all in good fun! We keep our show squeaky clean, unless you request our adult-themed show. College crowd? No problem, we rock out with current music too.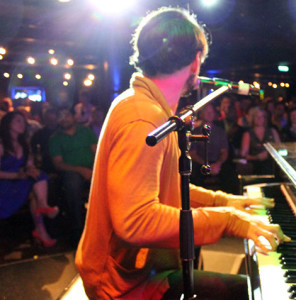 You are hiring a headliner act. We are not background or cocktail music. Your people should be ready to party with us once we take the stage. Typically our show runs from 50 min, all the way up to 4 hours.
If you want a bigger show, we work with drummers, guitarists, bassists and horn players that we can add to the party. Same interaction, sing-a-long and comedy, just bigger.
 If you want something a bit smaller in scale, any of our duelers can also do a single person show. Whether it's a house party or a huge convention, we have the show for you!
CONTACT US FOR DETAILED PRICING
Several options are available when hiring New York, NY Dueling Pianos. The most common is the all-inclusive show, which includes two matching polished ebony digital grand pianos that look and sound amazing.
We bring a complete sound system appropriate for the space. Here are most of the options available, and our pricing will depend on what you choose:
• GRAND PIANOS: Our standard, all-inclusive show. We will come out with our beautiful matching black lacquered baby grand piano shells with digital keyboards that sound amazing. We provide full sound production, with a dueling piano show.
• KEYBOARDS: A less expensive option would be for us to come out with just keyboards, (no baby grand piano shells) and full sound production with a dueling piano
• TALENT ONLY: You supply all sound production (including PA, monitors, Mic stands, keyboards [yahmaha CP-33 or equiv]) or actual acoustic pianos, we supply all the talent.
• SINGLE: If your primary concern is budget, we could supply a single dueling piano player who could do an interactive show (with breaks) similar to a dueling piano show but with just one performer, with a keyboard (no baby grand piano shell). We would supply all sound.
• ADD A DRUMMER to any one of these options. This adds energy to the show and also is good for dancing.
• ADD OTHER INSTRUMENTS such as a bass or a guitar to juice up the show