Game shows are one of the most popular shows on TV. Jeopardy, Wheel of Fortune and Family Feud are the top three most watched game shows.
Even back in the days of radio, people would love to play games. Now you can see game shows on TV, the internet and local bars. If you asked anyone if they wanted to be on television, they would say yes. And the fastest way to get on TV is being on a game show.
Horse Play Game Show is a real game show that will give you a chance to test your trivia knowledge against other players. Wear your "lucky shirt" and get a chance to test your knowledge. Game Show host Ron currently has his own TV show called Classic Movies With Ron M. The show airs on Channel 15 in Edison.
All questions throughout the game are multiple choice, except the Winner's Circle. Register early and bring your own cheering section.Here are some examples;
How tall was Abraham Lincoln?                                                A) 6 foot  B) 6 foot 2 inches  C) 6 foot 4 inches
How long is the TV show 60 minutes?                                      A) 1 hour B) 1 hour 30 minutes C) 2 hours
What number is associated with wishes, strikes and stooges?                                                                                            A) 2  B) 3  C) 4
The answers for the above is:
How did you do?
How to play Horse Play Game Show: 3 contestants play the game on a race track. They are asked questions and the audience is allowed to yell out the answers. Each contestant has their own "cheering section." The one that gets to the finish line first, wins the race. In total there will be 4 races. The winner of the first 3 races will compete in the final race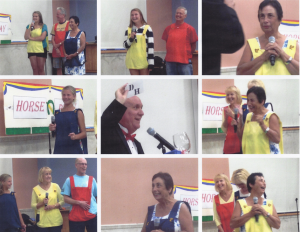 .