Giant Inflatable Movie Screen  Movie Nights! Just got better,,,,,,,
Our 20by13 Movie screen is a perfect addition any outdoor event,
We include a attendant, Projector & DJ Speaker setup at no additional Charge..
Ask about our package for the screen and a Candy ,Popcorn,hot do and cotton candy carts
 Great For-----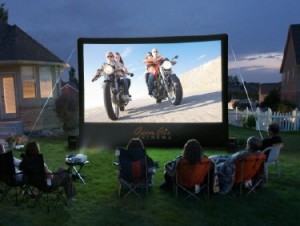 Community Events Fairs, festivals, schools and churches
Film Festivals a great compliment to traditional indoor screenings
Corporate Events client or employee appreciation / trade shows
Fund Raisers Find sponsors to cover the cost of the movie event
College Week Cinema under the stars for "Welcome Week"
Gaming Video game tournaments on the BIG SCREEN
Simulcast Live video feeds from concerts or sporting events
Set up Anywhere
Streets
Parks
Schools
Parking Lots
Golf Courses
Baseball Diamonds
PLEASE NOTE: THE ABOVE PRICE DOES NOT INCLUDE VIEWING LICENSE. IF YOU ARE RENTING AN OUTDOOR MOVIE SCREEN TO SHOW A COMMERCIALLY AVAILABLE MOVIE, THIS REQUIRES A PUBLIC PERFORMANCE LICENSE. PLEASE CONTACT A.C.F. FOR MORE INFORMATION (www.acf-film.com).