Jeff  The Worlds Best Motivational Speaker who does some cool comedy with a sprinkle of Magic!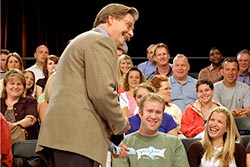 One of America's best funny motivational speakers, Jeff brings his corporate brand of humor to entertain and revitalize the workplace.
He blends his expertise as a clean stand-up comedian, improvisational actor and award-winning comedy coach into dynamic, laugh-packed keynote presentations and workshops.
"I have never seen this crowd have so much fun and learn at the same time. I was joyfully exhausted by the time you finished and anxious for more! I'd recommend you to anyone!" – Michael Barr, VP, TRC Staffing Services
About Jeff's Programs
Programs are tailored to your attendees, amount of time allotted and the event.
Material is tied into your theme.
Programs focus on the issues that are important to your participants.
You decide the proper mix of humor and content for your meeting.
A Winner Every Time
With the delivery of a stand-up comedian and the insight of an award-winning trainer, Jeff captivates his audiences with his unique blend of humor, message and magic combined with hilarious audience participation and a show-stopping finale that will have your attendees on their feet and cheering!
Jeff's Programs are perfect for:
Keynote
Annual Meeting
Opening Session
Closing Session
Kick-Off Session
After-Dinner
Luncheon
Breakfast
Management Retreat
Strategy Alignment Session
Convention
Employee/Customer Appreciation event
Awards Banquet
Wherever Laughter Is Needed
"Rarely does a speaker that we hire for the 'Million Dollar Roundtable' exceed our expectations, but that's exactly what you have done. Thank you!" – Lou Pierce, in charge of Special Session Speakers for The Million Dollar Roundtable
If one of your aims for your meeting or conference is to help your attendees deal with these stressful times, you want a keynote speaker with experience and up-to-date content. What if you could find a fun motivational keynote speaker who would engage your participants with laughter and audience participation while delivering his message?
Jeff  is the perfect keynote speaker with a combination of rich content and great clean humor. He will connect with your audience and leave them laughing, motivated and better able to deal with the daily onslaught of stress in their lives.
If you're looking for a clean, funny, keynote humorist to guarantee your next meeting is a huge success then motivational humorist Jeff Justice is your guy.
Your audience will laugh while they learn how to use humor appropriately for relieving stress, dealing with clients, breaking down barriers and becoming more productive.
It's the perfect way in this stressed out economy to punch-up your meeting and jump-start participants with both great content and clean humor.
Jeff's CSP's fun inspirational keynote will enable your attendees to employ their sense of humor to:
Reduce stress
Defuse anger
Better relationships
Avoid getting burned out
They will understand how to take themselves lightly while taking their work seriously.
What Sets Jeff Apart
Jeff loves to sit in on the meetings before his presentation and develop even more targeted humor from listening to the other presenters.
With the delivery of a stand-up comedian and the insight of an award-winning trainer, Jeff captivates his audiences with his unique blend of humor, message and magic combined with hilarious audience participation and a show-stopping finale that will have your attendees on their feet cheering and the boss looking like a star!
A funny Keynote Speaker, Executive Coach and Corporate Emcee his "Laugh More, Stress Less (and Avoid Getting Burned Out)" program is perfect for all types of functions from large conventions to management retreats during these stresful times.
Call today and discover why Jeff's clients, like AT&T, Coca Cola and IBM have this Corporate Comedian back time and time again.
"You were terrific! What a great ending to our leadership training weekend. You truly added a huge hunk of the fun to our theme of "The Power, The Fun and The Responsibility of Leadership"! Honestly, after two days of intense learning, you provided just the closing we were hoping for. I especially liked the way you were able to involve the audience "personalities" by using information from your interviews with them." – Wendy Todd, Director of Programs-IAFP
Presentation Skills That Work
Everyone agrees that humor, when used appropriately, is a powerful tool that will keep your participants alert and awake, increase retention, stimulate cre8tivity and enhance the listener's reaction towards you. Whew! That was a mouthful.
The problem is that most business people don't know how to use humor effectively as a presentation skill. You know that too because you've slept through their presentations. In fact, you may be one of them.
I also have tools for the terminally unfunny. My "Low Risk, Big Laughs" techniques can get big laughs for even the unfunniest in your organization. Ask for the free demo to see for yourself. If they can give the instructions that I lay out for them, word for word,  then the laughs are guaranteed! (If they can't give instructions then maybe you should't let them speak in public.)
A Program That Will Super Charge Your Presentation Skills
Contact us today to schedule a laugh-packed presentation skills program or workshop for your organization. After assessing your needs and comfort level with using humor, we will recommend a presentation skills program for your group or individual. Depending on your current skills and comfort level your program may include:
Simple "Low Risk, Big Laughs" techniques
How not to bomb
Reasons for using humor
The "Eleven Laws of Laughter"
Jeff's "Simple Secrets" of Delivery
Several surefire openings
Storytelling made easy
Appropriate and inappropriate humor
Live video taping and critique
Interactive training and exercises
How to "Ad Lib" like a professional
…or the whole shebang! Our programs range from a one-hour keynote or breakout that will fit nicely in an already-scheduled meeting to a two-day crash course in humor and presentation skills that will change the way you speak forever!
If They Snooze, You Lose!
This is the only program in the country that focuses on humor and delivery, possibly the two most important aspects of your program. You don't believe me? How many times have you drifted off or actually fallen asleep during an information-packed dry presentation?
Be honest:
Have you ever fallen asleep during a presentation?
Have you ever had someone fall asleep during your presentation?
Have you ever fallen asleep while you were presenting?
I bet there are a few of you that could answer yes to that one too.
These days you can't hold an audience with information alone. You have to engage them, or you're going to lose them to their "Crackberrys" and cell phones. You will learn our proven methods for grabbing your audience by their funnybone from the "get go".
You need Professional Help
Your Humor coach, Jeff  CSP has been training business people as well as professional speakers, the art of using humor both on stage and in presentations since 1990. He has developed techniques that allow anyone to use humor effectively no matter how dry they may come across.
I trained one business leader whose wife said to me sarcastically before his presentation, "I can't wait to see this. I've been married to him for seventeen years and I've never once heard him say anything funny." By the end, she was floored!
A Presentation Skills Event and an Ongoing Program
For associations, the program can be a one-time event or we can come back for yearly "Tune ups" at the Humor Garage. Corporations can follow up our workshops and keynotes with a variety of programs which we will design specifically for you. This can consist of:
Periodic presentation skills workshops
One-on-one coaching with key individuals
Phone and email help for individual presentations