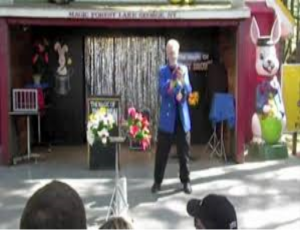 What type of event are you planning?

BirthDay Parties

Family Events

Senior Centers

Strolling Magic

Fundraisers
About
A magic man for all occasions… Jimmy  is a master magician and an engaging entertainer. He is a very dedicated and enthusiastic magic performer exhibiting the highest degree of professionalism in everything he does. His magic act is equally enjoyed by people of all ages. Jimmy's upbeat style and winning personality makes him an asset to any show. His great sense of humor and infectious laughter always gets the audience laughing with him. As a magician Jimmy can present both the serious and the comic side of magic with gusto. His skills range from the one on one close up trickery to the big full stage production.
The Magic Forest Theme Park, in Lake George, New York has seen Jimmy as the house magician since 1983. In addition to his magic stage show he has done the live bird show and the diving horse show at the theme park. For the year 2012 he will enter into his 30th year at the park where he does three family magic shows a day, every day, every summer!
Jimmy appeared with the Funny Factory Productions, at the invitation of King Hassan II, in Morocco in '94. This he repeated in '96,'07, & '08 and he also performed in the US for the Moroccan royal family at several other special events.No stranger to international shows he has appeared in Canada, Puerto Rico, Bermuda, Japan, Morocco, Singapore and Malaysia.
As a children's performer he has entertained children of all ages at hundreds of birthday parties, special events, holiday shows, television, school shows, fund raisers, fairs, festivals, corporate events, circuses, theme parks and as an opening act.
He is also a trainer in the magic and clown arts lecturing all over the US and Puerto Rico. His bright color and fun demeanor have always been a welcome addition. His talents were seen as the band marched in the Macy*s Thanksgiving Day Parade in '93, '98 and '01 with the Funny Factory band. He has been called upon to lead the band as the Drum Major at other special events as well. In November of '99 for the Genting Highlands Resort in Malaysia he brought his comedy interactive magic, strolling atmosphere magic and his wonderful brand of one on one humor.
Jimmy  brings more than a touch of trickery to every event, he brings out the magic of the audience's laughter.