BORN AND RAISED IN NONE OTHER THAN BAY RIDGE, BENSONHURST BROOKLYN, I HAVE EXPERIENCED FIRST HAND MANY OF THE JOHN TRAVOLTA CHARACTERS, WHICH I PORTRAY. AS A MATTER OF FACT WHEN MEETING "JOHN TRAVOLTA", HE COMMENTED THAT I WAS HIS "ALTER-EGO". I WAS DRESSED AS A JOHN TRAVOLTA LOOKALIKE AT THE TIME!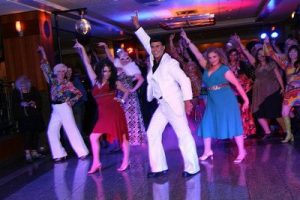 I'VE BEEN STOPPED BY STRANGERS AND TOLD BY ALMOST EVERYONE I MEET HOW MUCH I LOOK LIKE JOHN TRAVOLTA. I'M ACTUALLY A JOHN TRAVOLTA LOOK ALIKE, SOUND-ALIKE, IMPERSONATOR & HAVE BEEN IMPERSONATING AS A JOHN TRAVOLTA LOOKALIKE. FOR MANY YEARS. PEOPLE, HOWEVER HAVE TOLD ME HOW MUCH I LOOK AND SOUND LIKE JOHN TRAVOLTA ALMOST MY WHOLE LIFE AND WHEN I PREPARE MYSELF IN CHARACTER IT'S PERFECTION!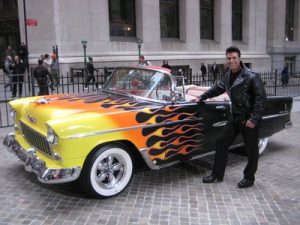 I'M YOUNGER THAN JOHN TRAVOLTA, THEREFORE HIS "SATURDAY NIGHT FEVER" -"TONY MANERO" AND "GREASE"- "DANNY ZUCCO" "CHARACTERS ARE MY SPECIALTY. FOR EACH OF THESE THEMES I OFFER A TOTALLY INTERACTIVE SHOW WHICH LEAVES NO ONE SITTING! THEY ARE THE MOST REQUESTED CHARACTERS AS A JOHN TRAVOLTA IMPERSONATOR.
  I AM A PARTY MOTIVATOR, ENTERTAINER, IMPERSONATOR, LOOKALIKE, SOUNDALIKE CHARACTER AND DANCER THAT IS SURE TO HAVE YOUR GUESTS TALKING ABOUT YOUR PARTY OR EVENT FOREVER.
  JOHN TRAVOLTA'S MANY OTHER CHARACTERS FROM VINNY BARBARINO" -THE SWEATHOG" TO "PULP FICTION" OR "GET SHORTY" TYPES ARE ALSO AVAILABLE. I WORK PRIVATELY, WITH AGENTS, DJ COMPANIES, PARTY PLANNERS,PRODUCTION COMPANIES OR OTHER LOOK-A-LIKES SUCH AS OLIVIA NEWTON JOHN AS "SANDY" FROM "GREASE"OR KAREN LYNN GORNEY AS "STEPHANIE" FROM FROM "SATURDAY NIGHT FEVER".
   I HAVE TRAVELED AROUND THE GLOBE AND PERFORMED FOR ALMOST EVERY OCCASION JOHN TRAVOLTA IMPERSONATOR. I LOVE TO PERFORM AND THAT MAKES MY PERFORMANCE EVEN MORE ENJOYABLE! YOU WILL LOVE ANY ONE OF JOHNS CHARACTERS.BE SURE AND BOOK EARLY.
GREASE MEGA MIX
this is a 5min Add on to the Travolta Shows!!