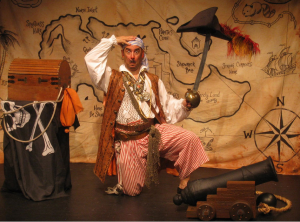 PIRATE SCHOOL! is a madcap, slap-dash pirate training academy that helps both kids and adults discover their "inner-swashbuckler". Featured in New York Magazines "BEST OF NY:KIDS!" this one-man sea faring vaudeville spoofs the Golden Age of Sail and satisfies children's universal curiosity about the briny Buccaneers of yore.
David Engel's comic romp PIRATE SCHOOL! has delighted family audiences for over 15 years with it's mischevious blend of interactive clown theater, music, magic and mayhem. During the show cannon boom, skulls talk, cutlasses drop, pets run amok and bellies laugh!
Kid's rejoice as their boisterous natures are set loose by the "generally good pirate" Billy Bones and his antic pirate lessons. Parents marvel as their kids are transformed into 'good' pirates, swaggering out of the theater encouraged and emboldened by this heartwarming all-ages show.
Great for Camps,Birthdays, Family events and more....