The Ray and Erin Show is a fast-paced variety show that incorporates magic, ventriloquism, whip-cracking, "daring" feats of balance, circus skills and more to create a family-friendly show that is WAAAY more than just another juggling act!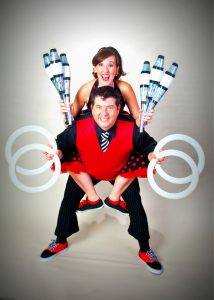 Ray brings incredible circus skills to the show, all the while trying to rein in Erin and her wacky antics. Together, they pack in a maximum of madcap madness that is guaranteed to please families, children and adults of all ages.
The only thing audiences can't agree on is who likes the show more - the kids or the adults!