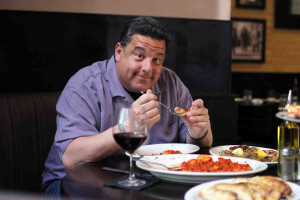 Steve Schirripa was born in Brooklyn, NY – a city noted more for the "mob" stereotype. But stereotypes, like a wise guy's alibi, can be misleading. A series regular on David Chase's acclaimed HBO drama The Sopranos, the Brooklyn College graduate's acting odyssey began while working at a hotel on the Las Vegas strip.
Once the entertainment director of The Riviera Hotel in Las Vegas, Steve worked with such comedians as Drew Carey, Kevin Pollack and Bruce Baum. His cameo roles in their comedy specials led to episodic work on the big and small screen, with Steve continually appearing in more productions. This eventually led to Schirripa's acting break in Martin Scorsese's Casino.
Schirripa is also a published writer, with the National Bestseller, A Goomba's Guide to Life published by Clarkson Potter, his first in a series of three Goomba guidebooks. This comical book co-written by Charles Fleming, includes chapters on growing up in Brooklyn, great Goomba's in history, and goomba's do's and dont's. His second book The Goomba's Book of Love and his third The Goomba Diet, "For Those with an Appetite for Life," are currently in stores.
With the popularity of the Goomba series, Steve was asked to write Goomba books for young adults, the first entitled Nicky Deuce: Welcome to the Family, which was followed up by Nicky Deuce: Home for the Holidays. Because of the book's success, Nickelodeon optioned the Nicky book idea, and just completed production on transforming the book into a film. Schirripa is an Executive Producer as well as star of the project.
He can now add another book to his growing list of credits as a published writer. Steve is writing a new book with Philip Lerman, titled Big Daddy's Rules, which brings a welcome dose of humor and old-school advice to the parenting wars. Big Daddy's Rules hits shelves May 7th, 2013.
Currently you can find him starring on the hit ABC Family series, The Secret Life of the American Teenager where he plays a single hard working father of a teenage boy. A far cry from slightly feeble minded Soprano's mobster Bobby 'Bacala'.
Schirripa is currently the host of Investigation Discovery's second season of Karma's a B*tch!, which Steve is also co-creator and executive producer. The program airs Thursday nights at 8 PM EST on Investigation Discovery. Previously, Steve was the host and executive producer of two successful seasons of the ID series, Nothing Personal.