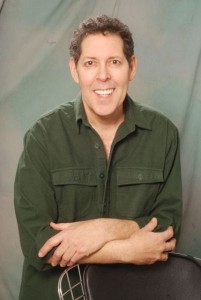 TOMMY K – ACTOR/ COMIC/ WRITER/ DIRECTOR/ PRODUCER/ ARTIST/ TEACHER
Tommy's career behind the camera is as varied and unique as his career in the spotlight.
Directly after college (SUNY Buffalo – Evening News' 'Best Actor' 1973 for 'Woyzeck', 1974 for 'A View From The Bridge') and study abroad (RADA in London, Guildford School in Surrey), he accepted an Associate Professorship at Brooklyn College in 1977 (where among others he taught Jimmy Smits) while pursuing his Masters in Acting, and studying Directing under Allan Schneider (the original 'Waiting For Godot') and Gordon Rogoff, with whom he helped found The BBC Project, an experimental theatre company under the wing of Joe Papp and The Public Theatre.
He left all that behind briefly in 1979 to fulfill his lifelong dream to do stand-up comedy. In 1980 The NY Daily News voted him 'Best New Comic'. He was one of the first to hit the road and become a headliner and a mainstay on the National Comedy circuit in the '80's and early '90s, thereby paving the way for a new generation of comics to follow. This coincided with numerous televised performances from around the world – including A&E's 'Comedy on the Road' from London and Jamaica, MTV's 'Half Hour Comedy Hour', etc. and eventually as one of the original VeeJays on The Comedy Channel, HBO's pioneer network that became Comedy Central. It wasn't long before Hollywood intervened, and so began an on-screen career that has seen him co-star in a wide spectrum ranging from 'Miami Vice' (as an evil baby snatcher for NBC) to 'Scooby Doo' (as Dracula in the Disney Cartoon series) with roles on 'Boston Legal' (ABC), 'The Days and Nights of Molly Dodd' (NBC), 'The Puzzle Place' (PBS), as spokesman for Cinemax for 3 years, countless commercials and among many others the pilot for 'Not Necessarily The News' (HBO) on TV. He was featured in the med-school comedy 'Stitches', Mel Brooks' 'Robin Hood: Men In Tights 'and 'Dracula: Dead And Loving It', and "National Lampoon's Movie Madness', on film. His Voice work has also exhibited his range, whether on Radio, TV or Film and beyond, creating original characters for the game 'Grand Theft Auto - San Andreas' to celebrity impressions for 'MTV Celebrity Deathmatch', and as a looper in the film "Flamingo Kid", just to name a few.
Tommy has been a pioneer in his own right: producing, directing, writing and starring in several series on one of the original TV cable networks (USA's 'Rialto Moviola' (playing all the characters), 'Spoiled Brats' and 'Nightflight'), touring major music venues as a self-styled Rock 'n Roll Comic (as opening act for musicians as diverse as Joan Jett and Warren Zevon) and recording his own album 'The Real Story' on Invasion Records, a favorite of College Radio since '1984'- one of the singles). His place in Rap history is secured with his drag performance as Mary in Run DMC's 'MaryMary' and he has written songs for artists from Bernie Worrell (P-Funk) to Mojo Nixon. His one-man show 'The Living Experiment' ran in NY and LA to critical acclaim from 1987-1991 earning him invitations to The Edinburgh Festival and The HA! Channel's one man series. He has written for National Lampoon (the magazine as well as Showtime's Home Video of the Off-Broadway hit 'Class of '86' in which he also starred) and was editor of 'Mother Tourista's Helping Hand(Book)', a comical guide to New York. From 1998-2000 he served as Director of Marketing for a technology-based entertainment company called 'International Robotics', traveling the world as a performer and representative of some of the most advanced special effects to date (as seen in 'Jurassic Park' e.g.). He is also the creator of his own style of art (papier mache on canvas) called 'Paintings in 3D' currently on display in New York and at www.paintingsin3D.com.
In 1999 he came full circle when he left the road to start The Comics Studio, a training ground for new and veteran comics, some of whom he has already coached to success. This led to the formation of The Comics Studio Talent Service to help introduce his students to working in the industry by producing shows and other vehicles to showcase their talents (like 'The Tommy K Show' which ran for 3 years and was voted 'Best Comedy of 2002', or 'Teens For Teens'- featuring an even newer wave, and 'Comedy For All' which recently ran every Wednesday at The Broadway Comedy Club and put comics in front of bookers and managers looking for the next ones to emerge). They can all be found at www.thecomicsstudio.com as well.
He has directed for stage (from 'Damn Yankees' to 'The Tooth of Crime'), short film ('When You're A Kid'), commercials (Seagram's radio), and television series, and is about to expand The Comics Studio to include all new media. Variety has indeed been his spice.
And now he is sharing his experience and knowledge with anyone who feels the urge in them to be creative whether as a fantasy or a career, whether it be in the Performing Arts, the Fine Arts or or any other outlet for Creative Expression that's healthy and helpful. Tommy has coached nurses on bedside manner, speakers on alcohol abuse, teens looking for direction and an outlet, mothers and fathers with responsibilities but desires of their own that need fulfilling or anyone else wondering what to do with a certain skill or talent hidden and ready to emerge and needing someone who can inspire them to Creative Fulfillment.