I do a FULL HOUR comedy magic show, big colorful props and  sound system.
Ken produces a  live goldfish (which he will give away) and a live rabbit (which I don't). My performing experience includes actors Melanie Griffith, Rick Moranis, John Leguizamo, the Friar's Club, the Gershwin Theatre/Broadway, Club Med Resorts, Villa Roma (I headlined last Xmas), Mrs. Bernstein's grandson, etc.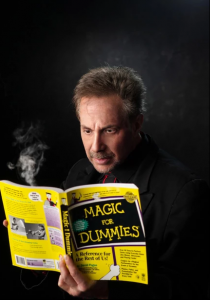 STAGE SHOW FOR KIDS & FAMILIES
Amazing Ken knows how important birthday parties are - that's why he made them his speciality! HIs original fast-paced show includes bubbles flying from his head, PRODUCING A LIVE RABBIT,  making chocolate chip cookies multiply and goldfish drawings come to life, emphasizing total audience involvement and zany comedy. Prepare to be amazed and get ready to laugh
Amazing Ken's close up will amaze, amuse and confuse! His stunning magic effects are perfect magic for events like weddings, Bar Mitzvahs, communions, corporate, private parties, etc. Walk around magic creates real impact for your guests as it entertains small groups at a time with stunning effects that happen just inches away.