A Beautiful, Sexy, All American Twinkling Female Trio Sings, Dances, Tells Jokes, and More. These versatile girls will make your next occasion a hit. Influenced by the Great Groups in Music History, their repertoire includes popular music from the 1920s, 30s, 40s, 50s, 60s, 70s, 80s, Plenty of Patriotic Tunes, Broadway, Jazz, and Holiday Music.
The Girls are Happy to Perform at Charity Functions. We Love to Honor our Veterans, and Currently Serving Military!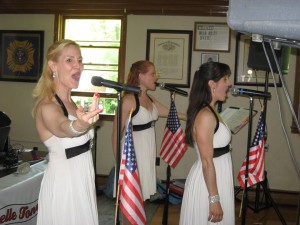 Join these three All American Beauties as they sing and dance their way into your heart. Often called the Twenty First Century Andrews Sisters, The Belles celebrate music's great harmonic girl groups with class, panache, and fun. Songs in their repertoire are from the 1920s, 30s, 40s, 50s, 60s, 70s, and 80s. The girls have a special place in their hearts for our veterans and currently serving military and always honor them through patriotic songs. Additional songs styles range from country tunes, broadway, jazz, and holiday songs.
Will Travel.
Amy
Laura
Jennifer
Katherine