Overview
Are you ready to be a part of the action on stage? Billy creates TV Game Shows with real sets and equipment to produce fast moving excitement and fun for the guests at your event. Billy will customize the content of the show for your specific needs. Corporate parties, retail promotions, mall events, and fund raisers are all much more exciting when the audiences experience Billy  Game Show Sensation.
We are experienced with both local and international audiences. Billy hosts the show and makes it fun by engaging audiences and elevating the competitive spirit.
Billy provides all of the equipment for the show and Billy brings years of experience as an entertainer to ensure that contestants and audiences alike have a great time. You'll not only see and hear all the action as it goes down, you'll be a part of it!
We also have a smaller show with one two person podium called -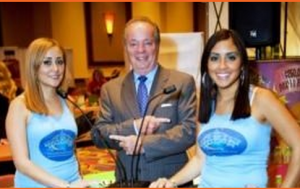 Game Show Sensation is a highly interactive and fun show incorporating elements of TV game shows like "Jeopardy", "The Newlywed Game", "Minute To Win It" and "The Gong Show". Everyone gets a chance to be part of the action, whether answering trivia questions or participating in a funny physical challenge set to lively music.
Bridal showers and rehearsal dinners become exciting events when Game Show Sensation host Billy Mann begins asking funny trivia questions about the bride and groom and the guests!The "Newlywed Game" is a sure hit at Wedding Anniversary Celebrations!!
Options include music for the event and equipment rental so that you can host your own game show!Ask us about Party Touch music system, available for 24 hour rental.This fun unit has 10,000 licensed songs,video and karaoke all in one unit,no DJ required!