Dikkie is one of the only Circus performer whom for your event can walk on a "Slack Wire" He will provide the rigging and setup to perform magic while on this wire.
A True Circus performer....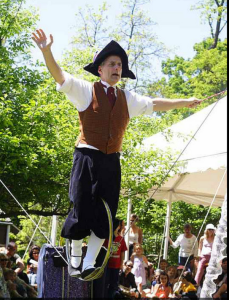 You wanted him, you got hi THE DIKKI SHOW is back this year better than ever. With his wild energy, wacky routines, witty banter, and, of course, things only clowns would do, you will be amazed at his variety of skills.
It's a smorgasbord of oddball antics, riotous slapstick and one darn good time had by all - all served up with a generous side order of original off beat music.  Expect idiotic levels of fun when THE DIKKI SHOW rolls into your town and theater.  This year Dikki offers one show both Circus and Magic combined for all:
"Dikki's Wacky Magic Show"
A combination of new and old magic with circus skills for all ages. Through audience participation, surprises and fun, Dikki makes the impossible become believable.  See a member of the audience suspended in mid air, watch while Dikki throws a ball of sparkling fire from each hand (only IF appropriate) and experience a snowstorm right before your very eyes.(space permitting)
"Dikki's Circus Circus Show"
Dikki serves up a double dose of circus feats. Your eyes will pop out as he juggles ping-pong balls, from his mouth, higher and higher into the air.  There's stilt dancing, juggling of all types. The combination of magic and circus skills keeps the audience off balanced in a good way.
| | |
| --- | --- |
| Yes, never a dull moment in the stage. show.  He will amaze you and make you laugh at the same time.  It's old time circus with a new age magic twist. | |