ESP, telepathy, thought reading: If there is such a thing, wouldn't you want to see for yourself?
Larry is a "genuine" mentalists; simply stated they are mind readers.  Today, only a few contemporary couples have developed these skills to demonstrate highly developed mental or intuitive abilities. They are part of a lineage that spans more than 150 years.
For the last 20+ years, they have been melting the hearts and tickling the minds of savvy audiences with a topic that is universally appealing, the amazing and inexplicable mind inside all of us. Their diverse performing experiences range from luxury cruise ships, top colleges and major corporations to international variety shows along with regular appearances at A-list private parties for the movers and shakers of New York City .
Strolling Mentalism and Close up Shows
Breaking the mold from the traditional, Mentalists Larry and Raven present strolling mentalism as a couple. They move comfortably from group to group providing quick and amazing ice-breaking psychic entertainment, in a conversational style, that won't interrupt the flow of your event.
From exclusive gatherings on yachts to intimate soirées at private homes their approach is refreshing and exciting and even the most hardened skeptics become believers! Guests are stunned to see:
Borrowed personal items will move people's hands
Silverware, and coins bend with only their mind.
Thoughts are inexplicably revealed.
Whether your looking for party entertainment, corporate entertainment or something special for your private function. Larry s intimate conversational style mingling mentalism won't interrupt the flow of your event, and will certainly provide the ultimate in flexible personalized entertainment. A sure fire way to make sure your guests have an unforgettable evening.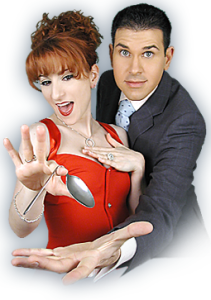 Stage and Banquet Shows
Once you see his assistant, blindfolded, calling out the names of strangers or reciting the serial numbers on an unseen bill from an audience member's pocket, you'll scream in disbelief and love every second of it. Just imagine when:
Larry describes an unseen photograph secretly held by a lady. Then she even reveals the child's name.
A man removes a dollar bill from his pocket, and his assistant divines serial numbers on bill of any denomination from 20 feet away.
Whether you are throwing an awards show, a banquet, or some other professional or personal event, Larry 's engaging mixture of interactive mind reading feats coupled with light hearted fun and clean comedy will astound even the most skeptical audiences.