David is an internationally acclaimed magician
David has entertained hundreds of thousands of people at corporate dinners, sales meetings, trade shows, family days, colleges and private parties for guests of all ages.
His engagements have taken him throughout the U.S., Europe and Canada. Besides performing for Fortune 500 companies, he is a regular on the "A List" circuit.
Whether performing his corporate mind-reading show, his family oriented show, or sleight-of-hand walk around magic, it's always 100% interactive, amazing and will be remembered for years to come!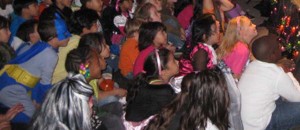 For Adults and Corporate
WITH DAVID AS YOUR TRADE SHOW MAGICIAN, YOU WILL…
Stop Traffic

Maximize Your Visibility
Draw Tremendous Crowds
Educate Your Clients
Gather More Qualified Leads
Enhance Brand Identity
Q. With the ever increasing costs associated with trade show exhibiting ,how do you dramatically increase your rate of return?
A. David , tradeshow magician. Cloaked in an atmosphere of fun and excitement, David delivers a custom-scripted presentation that is guaranteed to stop traffic, draw tremendous crowds, and qualify leads on the spot.
Educate Tremendous Crowds. David seamlessly weaves your product information and entertainment into a powerful sales tool. His magic holds the crowd but your company and its products are the star of the show. His presentations run approximately 12 minutes in length and are repeated 2 times per hour. The booth becomes full of customers and your sales staff has ample time to educate qualified attendees with more specific details.
David is one of the world's leading trade show presenters. His style will always reflect your corporate image. He is your ambassador of good will and an excellent representative of your company. Time and time again he has doubled, tripled, and even quadrupled his client's qualified leads. Have David create his "Sales Magic" for your company.
Kids Shows
Kids Magician David has a superb rapport with young audiences. His magic show creates a friendly atmosphere where the children posses the magic power. Together the children and David whip up a whirlwind of amazing magic and sidesplitting comedy.
Through the use of world class sleight-of hand and incredible timing your children will be mesmerized with Magic, Fluttering Birds, Unique illusions, Juggling and Tons of Audience Participation. It's a blast! The kids are the real stars of the show! They will go home raving about your event.
David has been the Bronx Zoo's "Boo at the Zoo" Magician for the last 6 years and he maintains an impressive list of corporate and celebrity clients that includes: HBO, Via Com, Phill Collins, Susan Sarandon, Tommy Hilfilger, Al Roker, Rosie O'Donnell, Howard Stern, Michael Bloomberg, Jane Curtin, Al Franken, Kevin Klien, and thousands of schools, camps, and private parties. David has a few extra tricks up his sleeve. His Mentalism/Mind Reading show is perfect for teen and adult parties and his Strolling close up magic is ideal for bar mitzvahs, dinner parties and corporate events. If you are looking for the very best kids magician in the Long Island, New York, Westchester, New Jersey and Connecticut area then you are looking for David .