A John Pizzi Favorite!
You may recognize Mike from his television appearances on MTV, VH-1, Comedy Central, and E! Entertainment Network. He was a winner on ABC-TV's popular show America's Funniest People, and was the host and head writer of Fox TV's stand-up/sketch comedy show "The Comedy Cabaret." Mike recently appeared in the AC/DC music video "Stiff Upper Lip" and the Ben Folds Five music video "Army".
As a stand-up comedian, Mike has performed at comedy clubs, casinos, and colleges in cities all over North America, including New York, Los Angeles, Miami, Chicago, Denver, Toronto, and Montreal. Recent appearances include shows at the Borgata Hotel and Casino in Atlantic City and the Riviera in Las Vegas. His unique combination of rapid-fire jokes, hilarious music, and clever props has made him a headlining favorite wherever he performs.
Besides writing and illustrating for Cracked Magazine since the mid-1990's, Mike's writing and artwork has been featured in magazines such as Weekly World News, Reader's Digest, Slick Times, Thwak, and Steppin' Out. His humorous plays have been produced in New York, California, New Jersey, and Texas, and he served as staff writer for the comedy news television show "168 Hours." He wrote, directed, and performed with the sketch comedy group The Little Bastards and appeared in several successful New York City productions with the group, including "Nuts In A Lifeshell" and "Dust Bunny Beaujolais".
Mike was a writer and performer on the popular Internet radio program "The Chaunce Hayden Show." Mike's work has also been featured on "The Howard Stern Show," ESPN, Fuse, and "Tough Crowd With Colin Quinn," and he is currently a writer for "Late Shift With Kevin Ferguson."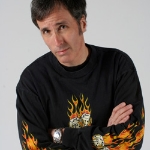 Mike Morse is a man of infinite jest. Most comedians would be content to perform a first-class stand-up routine. But laugh-maker Morse doesn't stop there. He interjects song parodies, wacky props and a Mick Jagger imitation that could leave the Queen of England amused. Multi-talented Morse builds bit upon bit, applause break after applause break and closes with a hilarious, can't-miss, musical hand puppet show.
Mike Morse's television credits include America's Funniest People(ABC), on which he was a prize winner. Off-camera, Morse is a regular contributor of monologue jokes for the Tonight Show with Jay Leno (NBC).
Comedian Morse has been a guest on the Howard Stern radio show (Sirius XM) and his musical and written contributions have been heard frequently on the program. He also was co-host of Miserable Men, a national weekly radio program (Sirius XM).
Mike has performed at many of the nation's best venues such as New York City's famous Stand-Up New York, Atlantic City's prestigious Borgata Hotel, Las Vegas' legendary Riviera Hotel, Illinois' Zanies and Florida's Giggles.
In addition, he has "opened" for singer Willie Nelson as well as comedians Gilbert Gottfried, Lisa Lampanelli and Kevin Meaney.