Actor Tony Darrow, who played the role of Sonny Bunz in Martin Scorsese's highly acclaimed film Goodfellas starring Robert DeNiro, says playing a wise guy is as natural to him as breathing.
Tony grew up in the East New York section of Brooklyn, a neighborhood known for its tough guys, wise guys and "only the strong survive" ethos. His background stood him in perfect stead to play a gangster in the black comedy about the mafia.
While Tony was never a gangster, he had plenty of opportunity to observe would-be mobsters and their attitudes while he was growing up. As a youth, Tony was gifted with personal charisma and a dynamic singing voice. As a teenager, he gravitated towards show business, entering and winning talent shows while working odd jobs.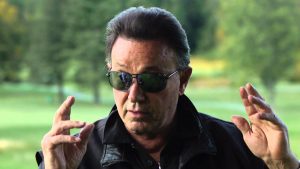 For the last fifteen years, Tony has built a reputation as one of the most entertaining night club acts in the business. He is in demand at the top clubs in Las Vegas and Atlantic City, where he can be found performing on many nights throughout the year. Tony has been voted the number one singing act in Atlantic City, and has starred there in the revival of Pal Joey at the Claridge Casino Hotel.
The story of how Tony landed the role in Goodfellas is quite amusing. After nearly 20 years of honing his nightclub act, Tony received an offer to appear in what turned out to be a tremendous cult film, Street Trash. He played a gangster and even wrote a song for the film, We Do T'ings My Way.
Several months after Street Trash was released, Tony was contacted by Martin Scorsese, the famed director of Mean Streets, Taxi Driver and numerous other classic films. It turns out that Scorsese had seen Tony in Street Trash and wanted him to audition for a role in Goodfellas.
The audition proved to be a memorable one. Meeting Scorsese for the first time, Tony slipped into a tough guy character, shrugging off Scorsese's outstretched hand and taunting him with a brusque obscene phrase. Scorsese loved it. "You're perfect!" he enthused.
During the filming of "Goodfellas," Tony continually delighted Scorsese with they same type of improvisation, creating realistic and cuttingly funny lines that were often better than the scripted dialogue. Scorsese's admiration for Tony was returned in kind: "He's got such a way about him," Tony says of the director. "I asked him if I should study for the role and he said, "Study what? You're a natural."
Goodfellas was based on the lives of authentic gangsters. In a bizarre instance of art imitating life, the part played by Tony -- Sonny Bunz -- is based on a real life individual in whose restaurant Tony worked as a young man!
Goodfellas received overwhelming positive reaction from the public and the critics, and acknowledgement from the Academy Awards.
In the past two years, Tony has completed two films with Woody Allen: Sweet and Low Down and Deconstructing Harry. Tony is also proud of his roles in the hit movies Analyze This with Robert DeNiro and Billy Crystal, Mickey Blue Eyes with Hugh Grant, and a recurring role in the HBO smash The Sopranos. Tony also recently appeared in a documentary for TNT called Family Values. All of these recent parts led to a starring role for Tony opposite Woody Allen in Small Time Crooks.
Along with the many honors that Tony has received, he is most proud of the recognition that the New York Daily News gave him in their article The Top 50 People to Watch in the Year 2000. Being recognized so highly in the city where he was born was an honor indeed for Tony Darrow.